Congratulations!
The University of Graz and alumni UNI graz congratulate all participants of the ceremony on the occasion of the awarding of an academic degree! Below you will find the participants of the last ceremonies of the six faculties.
Information on how to register for the ceremonial act can be found on the page of the Department of Studies and Examinations.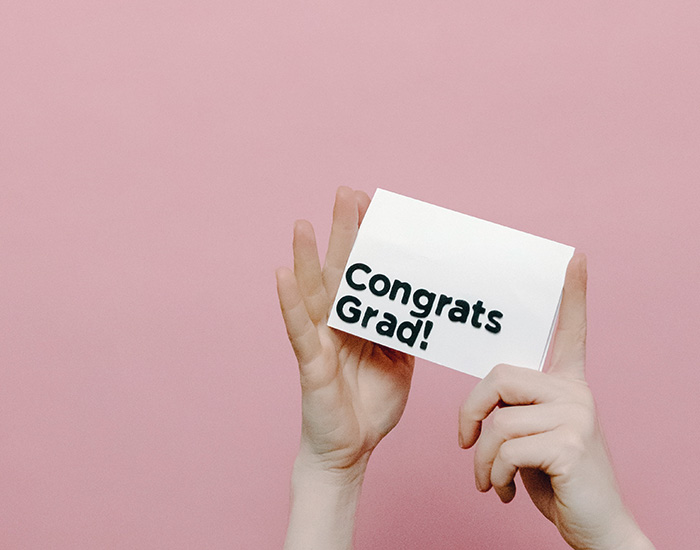 REWI Faculty Ceremony May 17, 2023.
Doctor of Law
Moritz Peintinger René Renner Viktoria Neubauer
Magistra or Master of Laws
Michael Fischer
Anja Flucher
Julia Greifensteiner
Clarissa Groß
Madeleine Klaus
Roman Malishevski
Nicole Jaqueline Meszaros
Julia Prendler
Julia Proß
Claudia Chiara Rombold
Anna Rothwangl
Sophie Seljak
Rebecca Stark
Dominic Günther Theisel
Sebastian Joachim Brass
Nikolaus Georg
Maria Eckereder
Dominik Markus
Felix Enzi
Julian Frei
Laura Galati
Eva-Maria Gratzer
Nora Johanna Gudrun Hochfellner
Lukas Kleewein
Alexandra Kohl
Sabina Lerchbaumer
Nadja Sophia
Joanna Nellessen
Christoph Neufingerl
Kilian Posch
Manuel Reinhold Reiter
Lukas Schmon-Kampel
Victoria Steflitsch
Lorenz Tripp
SOWI Faculty Ceremony May 16, 2023.
Doctorate of Social and Economic Sciences
Anna Viktoria Rohrer
Master of Science
Sigrid Berger
Tanja Hochstaffl
Mario Kaiser
Gregor Kaltenböck
Verena Kraßnig
Lena Pöllinger
Iris Maria Ines Steinkellner
Laura Christine Traußnig
Lorenz Feldbaumer
Nicolas Holzer
Katharina Jessernig
Christina Elisabeth Joham
Mariella Leitgeb Qi Hui Zhang
Master of Arts
Beatrix Marianna Glöckl
Bachelor of Science
Anita Dramac
Milana Mehmedbegovic
Anna Reichl
Raphael Rothschedl
Katja Schlatzer
Philipp Johannes Brüger
Jakob Martin Ernst
Michael Feutl
Tobias Klamminger
Nóra Novák
Katharina Schabler
Leonita Thaqi
Bachelor of Arts -
NAWI Faculty Ceremony May 12, 2023.
PhD
Gunda Lainer Bernd Riederer
PhD
Evita Lerchenberger
Graduate engineer
Valentin Haberl
Tamara Hofmann
Johannes Groß
Una Kurtović
Magister or Magistra of Natural Sciences -
Master of Pharmacy
Konrad Becker
Vera de Martin
Sebastian Erhart
Selma Omerasevic
Helena Reinisch
Johanna Karin Schmid
Christina Wolf
Livia Altenberg
Johanna Amann
Urska Bracic
Matija Kramberger
Mattea-Coco Marnul
Heike Pirchan
Tugba Demir
Hana Murtezai
Martin Panholzer
Dorian Tauschmann
Master of Education
Selina Romana Derler
Tanja Schroller
Iris Vanessa Thonegg
Hannah Friedl
Margarethe Kleemaier
Master of Science
Kevin Baumschlager
Patrick Klepits
Laura Mathis
Eleonora Matić
Clarissa Sallegger
Daniel Schloffer
Janina-Maria Worba
Nina Berghold
Greta Bramerdorfer
Hannah Marie Fink
Johanna Gruber
Anna Hochegger
Marie Theresa Kranner
Natalie Peintner
Bettina Ratz
Martina Magdalena Scheiber
Julia Katharina Stern
Eva Valentina Ambrosch
Gülcihan Yaren Calisgan
Lena Fröwein
Antonia Gutbrod
Katarina Krajina
Louisa Schmitz
Bachelor of Science
Julia Stadler
Maximilian James Ebner
Dominik Köberl
Magdalena Treffner
Romana Maria Vicenci
Bachelor of Education
Sheila Reiner
Vera Wolf
GEWI Faculty Ceremony May 10, 2023.
Doctorate in Humanities
Anna Graf-Steiner
Master's degree or Magistra in the Humanities -.
Master of Arts
Mirjam Đorđević-Mlinar
Laura Johanna Koren
Marie-Christin Sebl-Litzlbauer
Viktorija Kristina Dolinar
Kai Hendrik Hartmann
Melanie Jaindl
Maude Marie Therese Maure
Hannah Rössner
Master of Education
Lisa Canek
Sarah Gösweiner
Laura Maria Homar
Martin Florian Wolfgang Kriehuber
Aimée Natter-Fröhwein
Lukas Neuhold
Elisabeth Rauch
Anja Schönner
Stefan Ulbel

Bachelor of Arts
Agnes Regina Pfefferkorn
Selina Tropper
Julia Weinhappel
Nathalie Greistorfer
Bachelor of Education
Linda Manon Buchner
Ceren Sadic
Victoria Zehentner
Sarah Therese Lang
Mihaela Maletic
URBI Faculty Ceremony May 11, 2023.
Dr. phil.
Cornelia Maier
PhD: -
Doctor:in Natural Sciences -
Magistra or Master of Science -
Master of Science
Ricarda Derler
Julia Marlena Kammerhofer
Barbora Perutkova
Theresa Pömmer
Rebecca Vanessa Sussmann
Karolina Ciglar
Julia Graf
Sebastian Modl
Felix Schmid
Dominik Winkler
Kathrin Winkler
Johannes Zebedin
Master of Arts
Elisabeth Haas
Sarah Pelzmann
Elisabeth Pranter
Luisa Schantini
Claudia Trummer
Sarah Michele Ulrich
Tatjana Weber
Sandra Čičak
Magdalena Fritz
Corinna Kaltenegger
Sonja Mrazek
Anna Wilhelm
Master of Education
Sarah Fruhmann
Katrin Grosser
Bachelor of Science
Andreas Mauerhofer
Luca Palmstingl
Lukas Pirker
Markus Sorger
Michaela Traussnigg
Bachelor of Arts
Maja Nedeljkov
Verena Huß
Anna-Lisa Rath
Bachelor of Education
Christopher Kotnig
Doris Siebenhofer
Ceremony of the Faculty of Catholic Theology from July 1, 2021.
Doctor of Theology
Thomas Gremsl
Ladislav Kučkovský
Eva Kupplent
Martin Reiter
Master of Theology
Erwin Schlemmer
Johanna Walcher
Master of Philosophy
Raphaela Maria
Christian Hannes Neumann
Master of Arts
Elisabeth Adam
Jürgen Brand
Sandra Buchbauer
Sarah Csacsinovits
Margarita Heinrich
Bibiana Hubmann-Fellner
Sandra Klinger-Puchmann
Lisa Mauerkirchner
Melissa Claudia Schmitzberger
Andra Stadleriene